INNOVO Urinary Incontinence Kit
Regular price

$449.95

Sale price

$499.00

Unit price

per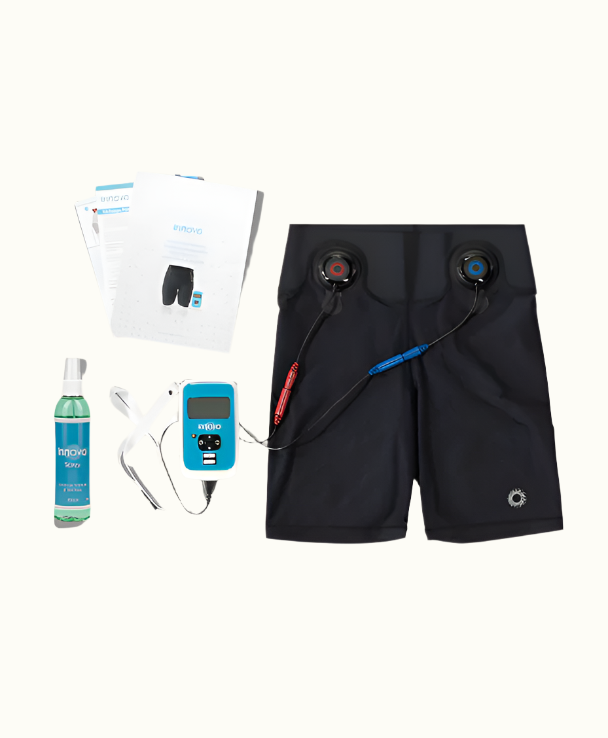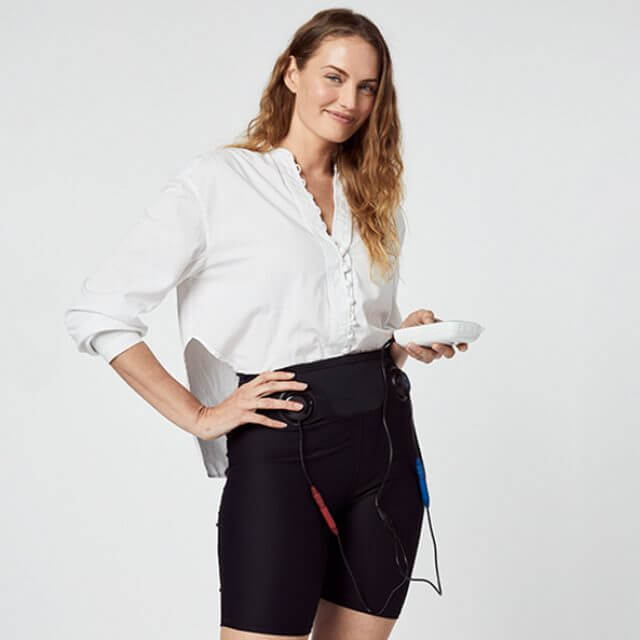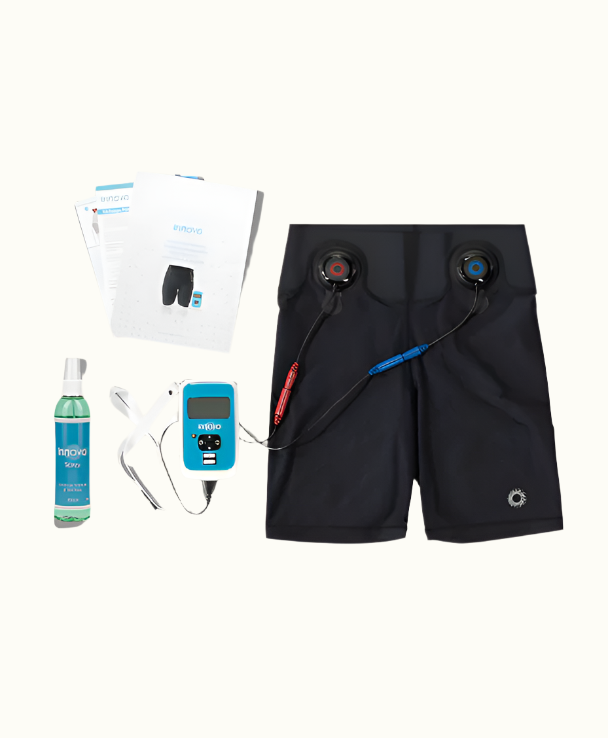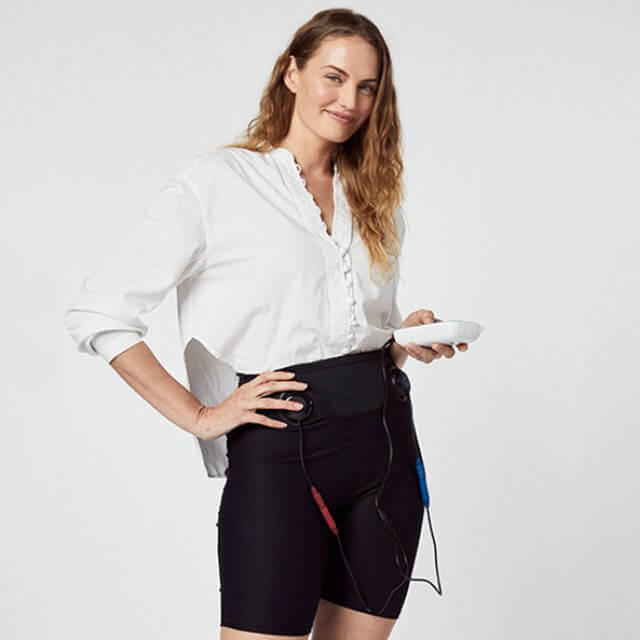 /
Regular price

$449.95

Sale price

$499.00

Unit price

per
Urinary Incontinence Device
The INNOVO Urinary Incontinence Kit contains everything you need to get started on your leak-free life. Our Multipath Technology engages your pelvic floor muscles to deliver 180 precise kegels per session without side effects. Creating the perfect kegel exerciser to train your pelvic floor. 
To order an INNOVO Kit, enter your lower hip measurements below. We offer a full range of sizes between 32 and 51 inches.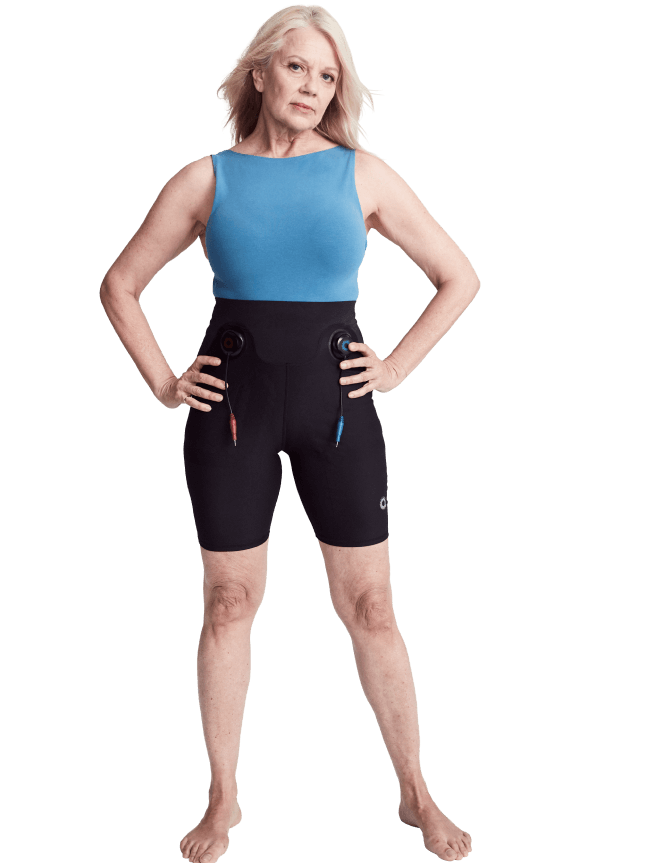 Product Information
What's Included?
When you order the INNOVO Kit you'll get everything you need for a 12 week treatment, your pelvic floor exerciser kit will contain:

INNOVO Multipath Shorts, Conductive Spray, Cable, Controller, Next Strap, Charger & Adaptor, Instruction Manual and Quick Start Guide.
Who should not use INNOVO?
The INNOVO pelvic floor trainer is not suitable for some people and should be used with caution by others.
INNOVO should not be used if you:
- You have a hip replacement.
- Have a cardiac pacemaker, implanted defibrillator, or any implanted electronic device.
- Have a suspected or a diagnosed heart condition (consult a doctor).
- Are pregnant.
- Have any implanted metal devices in the abdominal or pelvic areas, including an Intrauterine Device (IUD).
- Have epilepsy or are under medical supervision for cognitive dysfunction.
- Wearing the product necessitates placement over areas where drugs/medicines are administered by injection.
- Have waited at least six months after the birth of your baby (consult your doctor).
- Have waited until the heavy days of your period have finished.
For more information view our
disclaimers page
.
Can I return INNOVO if it doesn't work for me?
You have 30 days from the receipt of your pelvic floor exerciser INNOVO Kit to decide if you are satisfied with your purchase. If the size you ordered isn't right, you can contact our Customer Care team to initiate an exchange.
How long before I start to notice any improvement?
Clinical research shows that INNOVO pelvic floor trainer users may start to notice an improvement after just four weeks. For best results, we recommend you use INNOVO for at least three months – 30 minutes a day/5 days a week.
What happens if I order the wrong size?
If the INNOVO pelvic floor exerciser size you've ordered isn't right, you should contact our Customer Care team to initiate an exchange.
What position should I be in when using INNOVO?
You can use INNOVO in one of the following positions:
For best results, stand with your upper body slightly tilted forward. You can also rest your hands on a surface for support.
Lying flat, face-up or in a reclining position with both your knees bent and your feet flat. It's important to keep your knees bent to ensure that the stimulation correctly targets the pelvic floor.
If you need to move during your session, it is recommended to pause the session, then continue once you are settled back in your treatment position.

Free-Shipping &
Easy Returns

Buy Now
Pay Later
12 Month
Service Guarantee
Doctor Approved,
FDA Cleared
@MYINNOVO
#LetsPeeHonestTM Women Leak